Oh it has been a while. Been doing a lot of wandering. Scotland has much to do for dirt cheap. And at the seldom opportunities of great weather, one has to take maximum advantage of it. But I shall reserve that for another day. Today, I share about the second best place to visit in Dundee, for me. There's a small suburb in the north side of Dundee called Broughty Ferry. A short 4 mile ride away from the city center and you come to the wonderful coast line that Dundee has to offer. Shockingly, Scotland has a beach. But you'd probably freeze if you try to paddle your feet in the water.
Getting to Broughty Ferry is not a task. Its more like a lovely journey through the posh side of Dundee. Broughty is in fact one of the poshest areas of Dundee. Rent could be as high as £900 p.m for a 2 bed room flat. Compare with London and there you have your description of posh and what not. From the city center, there are two buses that go to Broughty Ferry. Hop on Bus #5 from Commercial Street, you'd be looking to get off at Queen Street or Nursery road. Bus tickets in Dundee can be expensive. As expensive as £4.20 for a day ticket and £10 for a student weekly pass. That is enough for a week's groceries. If you are one of the bravehearts, then you could consider walking, probably not the most ideal way to get there. Takes about 2 hours on foot. Although the most economical and might I add, FREE way to get to Broughty or anywhere in Dundee is to rent a bike from Eco-Abertay, Abertay University's Eco Friendly Student Association, which gives students bikes on rent for FREE for a weekend. Sweet deal.
On reaching either of the bus stops, you'd be posed with a 5 minute walk down to the beach, which is of course situated alongside a castle, like where exactly in Scotland is not. If you time your visit appropriately, entry to the castle is free but closes early as 4 PM in the winter months. Although, I would prefer to spend a nice evening down by the castle and relax at the stupendous marvel that it is.
Image Credits – http://broughtyferry.co.uk/photos/archive?gallery=Photo+Competition&sub_gallery=2012
A couple of visits to Broughty, I've had the fortune or rather misfortune of experiencing both the extremes of climate. On my first visit, it was windy, gloomy and to top it all, pouring rain that gave us a truly Scottish welcome. So great that I finally realized, Scotland and Umbrellas dont really work hand in hand. 2 minutes in the windy, rainy conditions, voila a broken umbrella. Though we had a great time trying some classic Scottish and British food. Fish and Chips obviously tops the menu, but with my allergy to sea food, I substituted with chips and peas. Though there were interesting items on the platter. Sugar, spice and everything nice. That is how Scotland likes to roll, maybe not so much on the spice, but most people fancy a good curry. But they take everything nice quite seriously, that they make it extra nice. In fact they go bat shit crazy on a whole another level of diabetes. Why?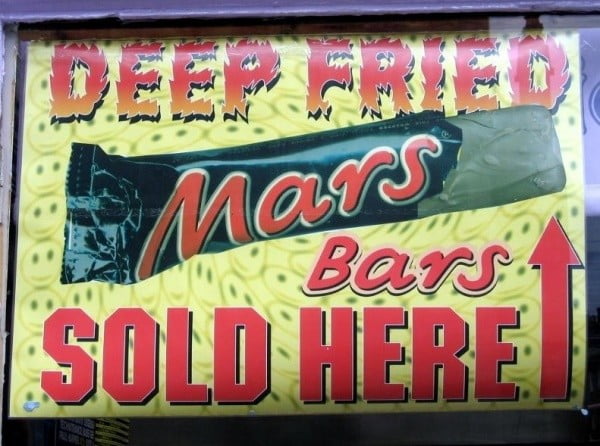 Source – https://www.greatbase.co.uk/deep-fried-mars-bars-in-edinburgh/
That is why. Precisely. How could you also say no to this.
Source – http://www.neatorama.com/neatolicious/2014/07/21/Traditional-Scottish-Food-Deep-Fried-Mars-Bars/
This is diabetes raised to the power of diabetes. BUT, it does not stop there. Cholestrol does not want to be left out either. Say hello to this piece of glory,
Deep Fried Pizza. Mind = Blown. Cholestrol levels beyond recovery. Immediate death.
Source – http://blog.kukd.com/index.php/2016/07/04/scot-it-like-its-hot/
After eating these two, I doubt you'd regret dying anyway.
Classic meals to be tried by anyone who comes to Scotland. Either of these or both, along with a can of Irn Bru.
Coming back to Broughty Ferry, I chose a much better day to visit the second time round. Sunny, warm and perfect. Even got a photo-op that resulted in a great picture, the one that featured in this post. Close by from Broughty is Monifieth Beach. If lucky, on low tied, one could see seals playing about or just sun bathing. That is probably next on my itinerary for Dundee. Or I could go up to Glamis Castle?.. Too many options, too less time. But explore them I shall. Stay tuned for more on Scotland and what not. Catch you all later.